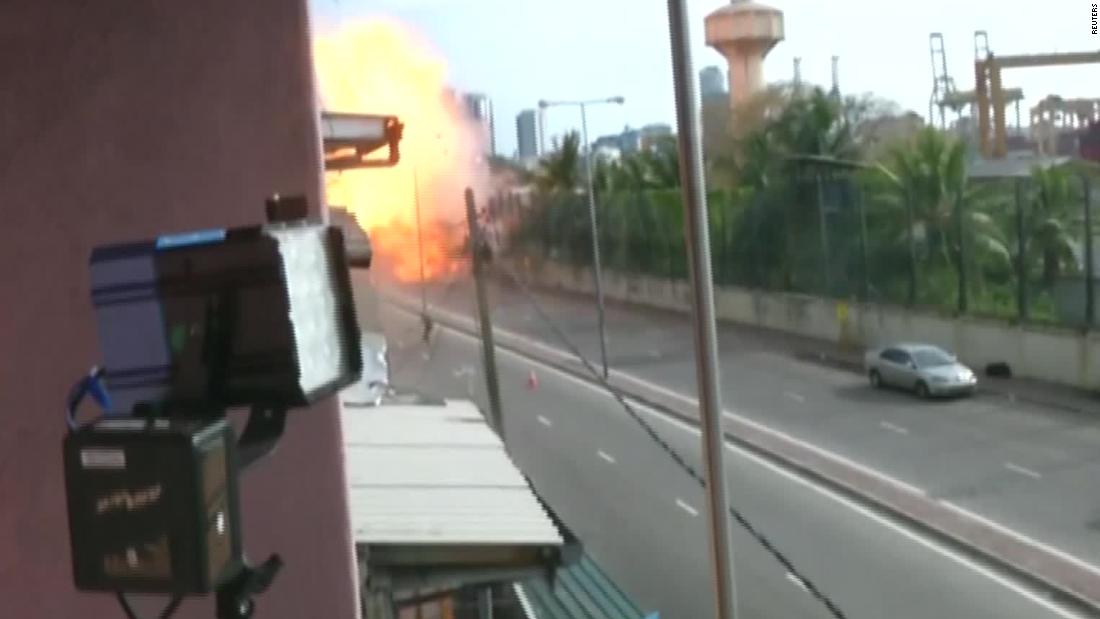 Colombo, Sri Lanka (CNN)One day after a devastating series of attacks on hotels and churches across Sri Lanka, another explosion blew out windows in the residential street in central Colombo and knocked a security officer off his feet.
Major questions still remain over who carried out Sunday's attacks and why. Meanwhile, government finger-pointing and revelations about
how much some officials knew
in advance have offered little reassurance for a shocked public.
Tension between president and prime minister
The country was split by a political crisis last year, when President Maithripala Sirisena attempted to replace the incumbent Prime Minister, Ranil Wickremesinghe, with a favored candidate. Wickremesinghe was
reinstated in December
after the intervention of the Supreme Court.
There appear to have been communications failures within the government. Speaking at a press conference Monday, government spokesman Rajitha Senaratne said that multiple security warnings — both domestically and from Indian and US intelligence, according to officials — were not acted upon.
Economy minister Harsha de Silva said the prime minister was "kept in the dark" about the warnings, while Senaratne added that an attempt by Wickremesinghe to call a meeting of the national security council was ignored by the rest of its members.
"I think this is the only country in the world where the security council does not like to come when summoned by the Prime Minister of the country," he said.
Paikiasothy Saravanamuttu, executive director of the Colombo-based Centre for Policy Alternatives think tank, said that "very clearly the disagreements and tension between the president and prime minister has affected this (situation), to what extent it has needs to be uncovered in the investigation."
"But clearly all of this should be put aside and there should be unity in terms of investigating and bringing the perpetrators to account," he said, adding that the continued disputes were "really quite absurd."
"The government really needs to close ranks and put up a united front, but the damage I think has been done."
International terrorist group suspected
The government declared a state of emergency Tuesday, as the country entered a national day of mourning and burial services are held around the country.
While at least 40 people had been arrested, given the uncertainty over the size of the terrorist group, there are very real concerns that funerals could become targets for secondary attacks.
Members of the Sri Lankan Christian minority said that Sunday's attacks came "out of the blue" and there had not been an upsurge in tensions or threats ahead of the bombings.
Anne Speckhard, director of the International Center for the Study of Violent Extremism (ICSVE), told CNN that churches were "probably an opportunity of time," given the large number of worshipers gathered at events on Easter Sunday, the most important date in the Christian calendar.
Officials have said they believe an international terrorist group was involved in guiding or influencing the attacks, which Speckhard said "has all the marks of a consultant."
"There was probably someone connecting to them over the internet who said 'don't just do one attack, wait until Easter'," she said. "They were likely thinking of doing the attacks now, thinking 'let's do Western targets' and they were told 'oh by the way it's Easter so let's get … churches'."
Ending a decade of calm
Sri Lanka has a long history of conflict, and the government succeeded in crushing the Tamil Tigers despite fierce opposition and attempts by international peacemakers to control the situation.
But Speckhard and others said that experience may have been itself a hindrance, with the government looking the wrong direction and in a position of complacency regarding its capabilities and intelligence.
"There's no reason why our police and army, who defeated the (Tigers), could not have prevented this incident," said SM Marikkar, a UNP member of parliament.
Speckhard added that Sri Lanka's government is "quite proud of themselves for defeating the Tamil Tigers … they created the suicide vest, the first people to attack by sea, the government got on top of all that, figured out how to defeat it."
"It shows some counter sophistication, they had to learn about these things, I don't think there's a lack of capability," she said.
"There was a memo that was not paid attention to, that can happen at any Western government and it has, that's how governments work. They're bureaucratic, partisan, 'should we act on this or not,'" she said. "Meanwhile the terrorists blow things up."
As the country continues to wrestle with what happened, the fear is that divisions within the government and people could widen into splits that threaten the country's brutally won peace.
Original Article : HERE ; This post was curated & posted using : RealSpecific
Learn How To Treat Your Panic Attacks and Anxiety,Regain Your Self Confidence,and Enjoy Life Without Fear
Clickbank Ads
Learn How To Treat Your Panic Attacks and Anxiety,Regain Your Self Confidence,and Enjoy Life Without Fear
Clickbank Ads
Learn How To Treat Your Panic Attacks and Anxiety,Regain Your Self Confidence,and Enjoy Life Without Fear
Clickbank Ads